My first handgun was a Ruger MkII slabside my dad bought me when I was 17, man I loved that thing. I have always liked the Mark pistols, accurate, comfortable in hand, quality built, what's not to like?
For years I dreamed of setting up a MKIII with an integral suppressor and some other add ons I had in mind, but just never got around to it.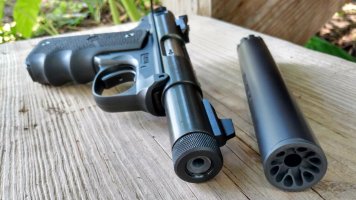 I bought a Liberty Suppressors Kodiak a few years ago and had it converted to a 'Regulator' after they changed the baffle design. The tube is Ti and the rest steel. It drops the decibels down to where most integrals are, about 115 dB in a 6.5x1" can weighing about 5.5 oz.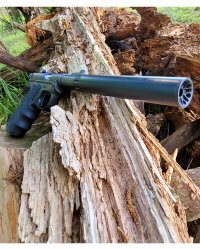 I decided that I didn't need an integral, so when I bought my Ruger MKIV a few years ago I sent it to Volquartsen to have them shorten the barrel to 3" and crown and thread it, and they moved the front sight back and reinstalled it, made a thread protector, all at a (low imo) cost of $150 besides shipping,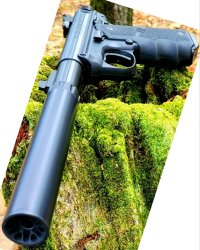 I ordered several parts from Volquartsen too, a trigger w/stop, firing pin and extractor. I want to go back and add a sear and springs now, but didn't at the time. I have since added a set of Hogue smooth black G10 grips which I prefer over the rubber ones shown, actually.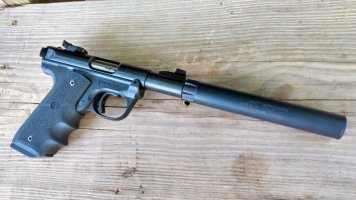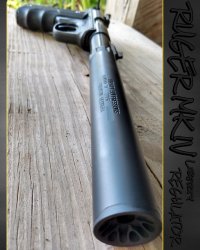 It's so quiet and very accurate, as accurate as I remember my slab side backbin the day, although I don't have it anymore to compare. This is what I wanted for years and if brings me infinite enjoyment.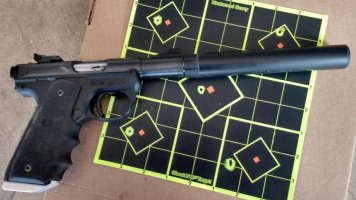 -Click the pics for more detail and full size-
Last edited: