The following will illustrate the UTS (Ultimate Trigger Stop) as created by yours truly using Stock Trigger Housing, to fabricate a UTS as marketed by Lone Wolf. Those who are brave enough to do mod's may benefit from my illustrations. Saves ya $25 buck PLUS shipping!
I won't go into an explaination of what the UTS's purpose is (Those interested probably already know), or how it works other than to say that it completely eliminates over-travel and is adjustable.
I recommend a drill press (I don't have one). You will also need the appropriate sized bit (to drill hole in housing), and a Tap & Die set.
I don't know the size of the set-screw, but will try and give clues as to what size you will need.
This is not a difficult mod', the hardest and most critical part is drilling the hole straight. I recommend that if you do not have a drill press and are using a Hand Drill, to get the bit as short as possible so that it does not bend and try and re-direct itself mid drill (happened to me, but I remedied it).
Simply speaking, this mod involves drilling an appropriate sized hole in the Trigger Housing, then threading the hole and inserting a set-screw in the newly drilled hole, then re-installing and adjusting (by dry-firing).
I won't go into disassembly of the Glock as there is tons of how-to's, Youtube, Google search etc. But I will say that once you get it, it is far more simple that a Ruger P.
On to some pics...
1st pic just shows the Lone Wolf Set-Screw, which is a QUARTER inch in length.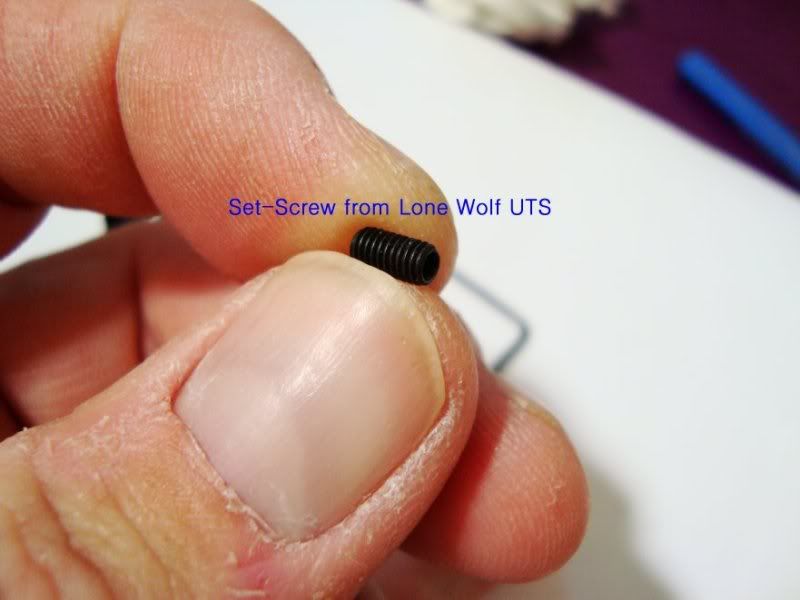 Next 2 pics illustrate hole in Trigger Housing. Note that your Stock Housing does NOT have this hole.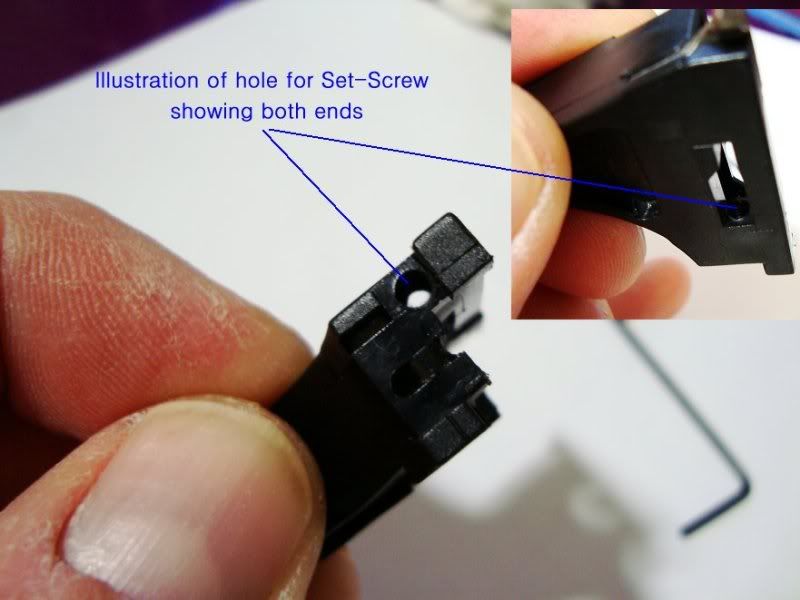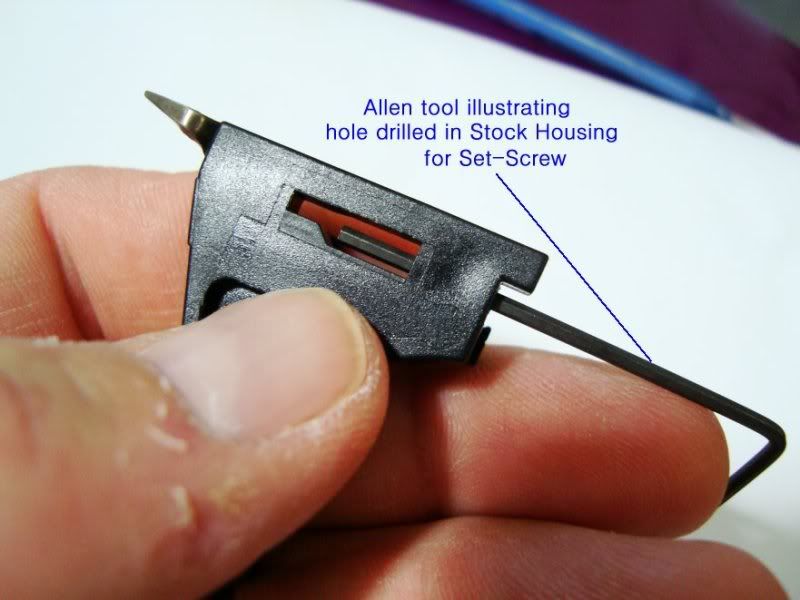 Next pic illustrates Housing pulled up out of receiver, showing Set-Screw (Installed) in relation to Trigger-Bar.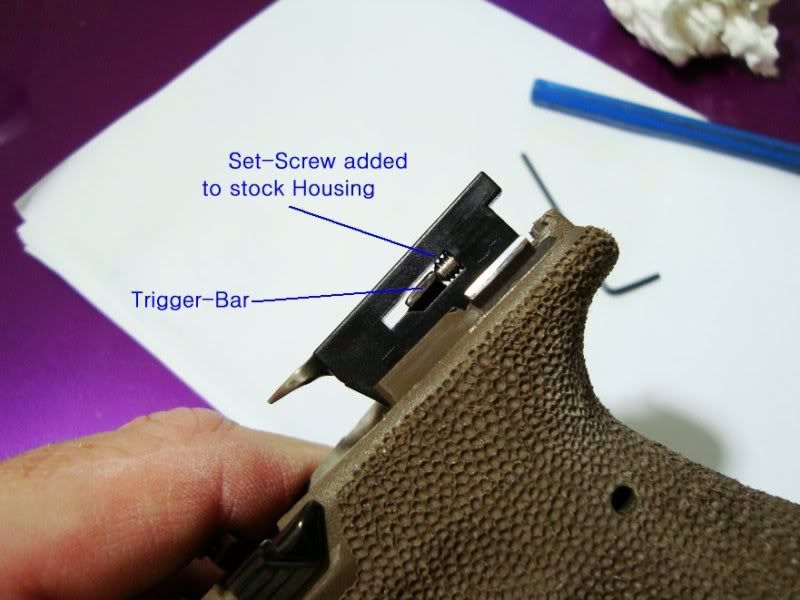 Next pic shows thread cutting tool.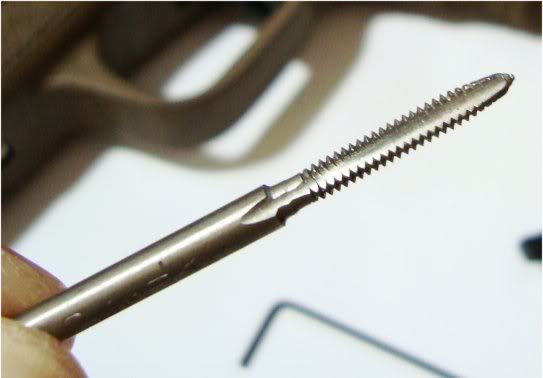 Next pic just shows off some upgrades and mods.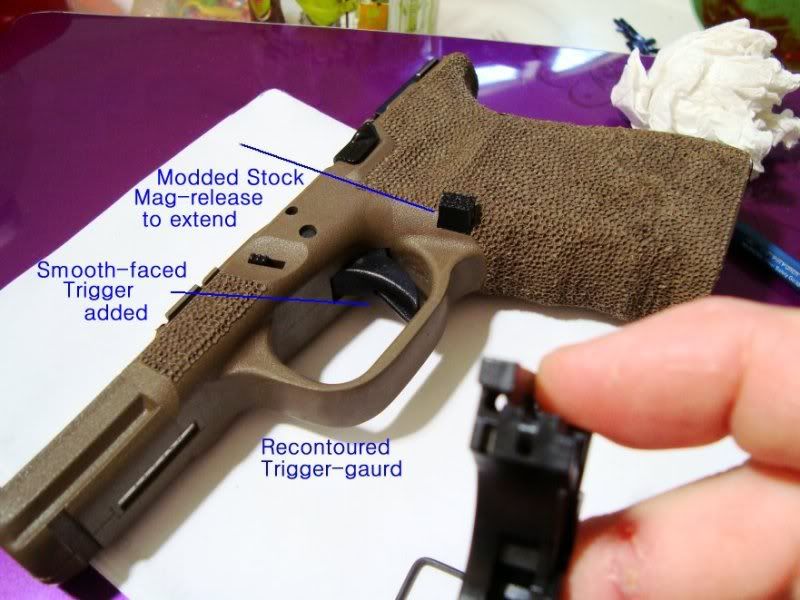 Yup, that's pretty much it for now, I'll try and answer any forthcoming questions.