Single-Sixer

Joined: Wed May 11, 2005 1:01 am
Posts: 157
Location: N. Y. USA
SUREFIRE WEAPON LIGHT
RECHARGEABLE CONVERSION
350 LUMENS AND AS OF 1/13 A NEW LAMP OF 500 LUMENS
TWO HOURS RUN TIME
$175
OR $135 FOR THE FLASHLIGHT
WITH CHARGER
SHIPPED

Hi guys,
I have made a rechargeable conversion of a Surefire 6P flashlight, into a weapon light of 350 lumens.

You can mount this baby in a 5.56 mm a 50 caliber or a shotgun, it will shrug recoil no matter what caliber you shoot. And is rechargeable.
How come?
I have machined the interior of the Surefire body, to accept the use of a premium quality Lithium Ion rechargeable battery,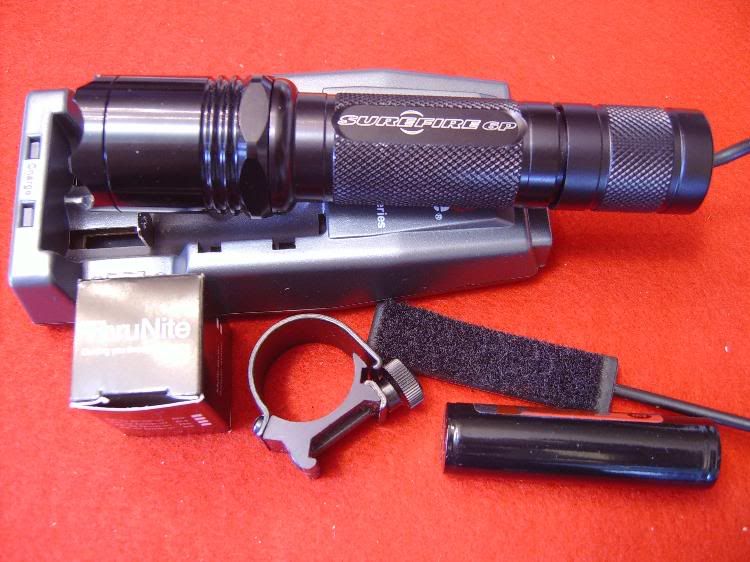 The special machined Surefire body is a part of the equation.
The Lamp is a new one and output and incredible 350 lumens (well more than any Surefire weapon light)

The tail cap has a remote cable switch with pressure pad, so you can place it on the stock of your rifle or shotgun, under your thumb. Yes thumb pressure will activate the light.
IT IS ALSO PROVIDED WITH A CLICK TAILCAP for when the light is out of the rifle.

Usually this type of light uses 123's batteries, they go fast under the power of 345 lumens, so we opted for a long run time battery, rechargeable, that will last you close to 2 hours of run time.

Moreover, when you are unsure of how much battery juice is in the battery, just pop it into the charger and you get a full charged battery, ideal if you practice much night shooting with your AR.
You cannot do that with 123's primary batteries unless you are willing to dump expensive half used batteries.

Li Ion technology will provide extend use if you don't use the light, an occasional full top charge every 5 months will keep the battery at full capacity.

We have used a crenellated bezel up front, but I also have available a flat bezel.

I provide the light with a Weaver type ring, or an all steel quick detach LEVER mount, so you only have to attach it to a Weaver or Picattiny rail.

E-mail me if you want to mount it on a sporting rifle and need to know which mount to use and where in the rifle to put it.

Charger good for 110 to 240 volts, I provide plugs for Australian, European or UK if necessary

$175 shipped in the USA
$190 shipped International
or $135 for the flashlight with the 350 lumens 5 function lamp.

PAY PAL at:
jcharles11784(at)yahoo(dot)com
or I can send you a paypal request and you can pay it with your credit card.

Also write me a this e-mail if you need more information or want to pay with money order, or check.

If you PM me here, it will take longer to answer you, as I am working away from the computer, while e-mails I always can answer from my cell phone.

SAVE THOUSANDS OF DOLLARS

Surefire weapon lights are very good, but they run on RC123's batteries, which are costly (around $2 each for the Surefire brand).

A two battery Surefire will do 65 lumens for 1 hour on two batteries or 120 lumens for 20 minutes with the P-61 lamp.

A 3 battery weapon light will do 200 lumens on three 123's batteries for 20 minutes.

That is $18.00 in batteries for one hour to throw a 200 lumens beam, with a lamp's life of 36 hours.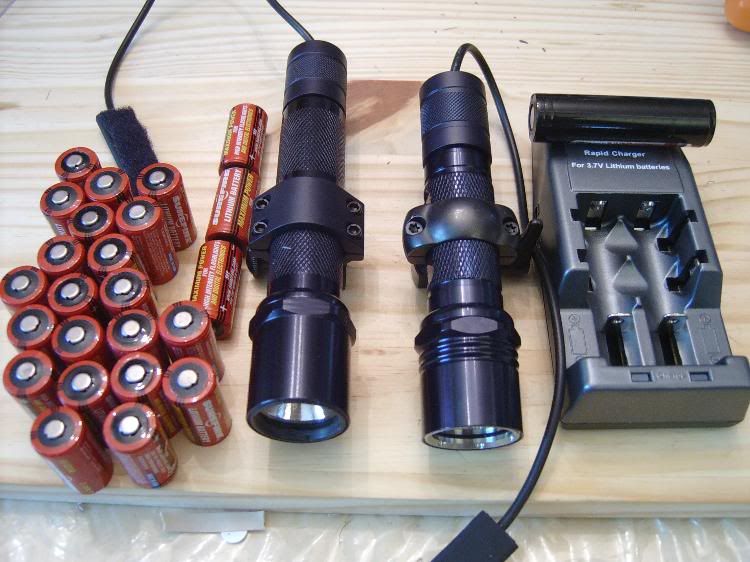 You can see such a light (a Surefire 9P) on the picture left. On the right side is my offering of the tactical weapon light with a lamp life of 50,000 hours, running on a rechargeable battery with 2 hours run time, and outputting 300 lumens.


The battery life is 2,000 hours (it can be recharged 1,000 times) after that, a new battery will cost $23 shipped.

If you were to use the Surefire 200 lumens light for 2,000 hours you will spend $36,000 in batteries.

Stop wasting money in expensive 123's and e-mail me for the tactical weapon conversion.
And it's shorter and lighter too.
e-mail
jcharles11784(at)yahoo(dot)com.

Thank you for looking
Best wishes

New as of September 2010. I am using new 350 lumens lamps

BEAMSHOTS FROM THE NEW LAMPS
350 LUMENS STRAIGHT
AND 350 LUMENS
5 FUNCTION LAMP

Due to a new reflector shape, the new lamps have a gain in range of over 20 yards.
The flood seems to be the same, so people clearing rooms will be well serve.
Hunters will love the new lamps due to the increased range

75 yards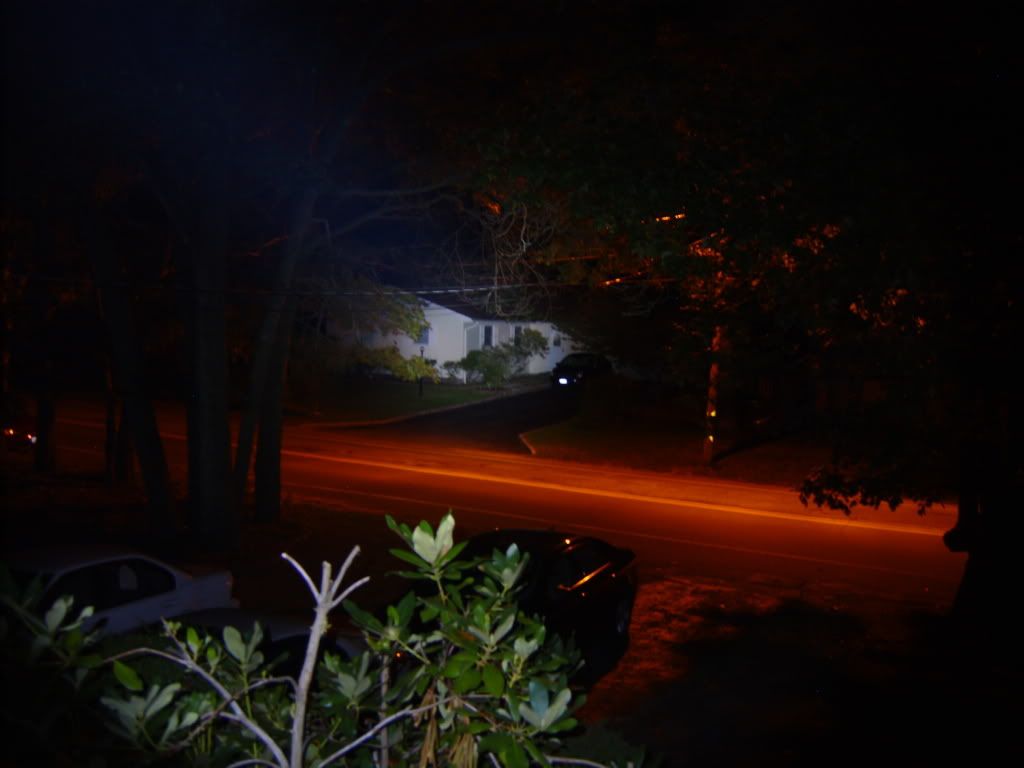 52 yards (beam shot goes under trees where more moisture is accumulated and reflects on the beam)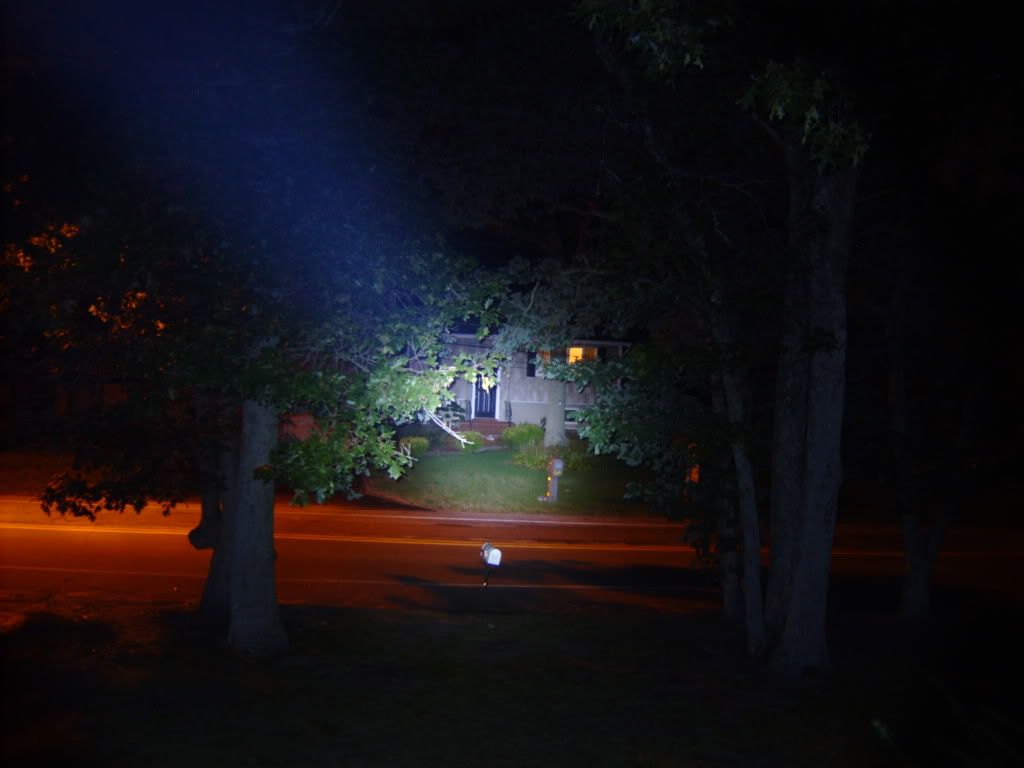 60 yards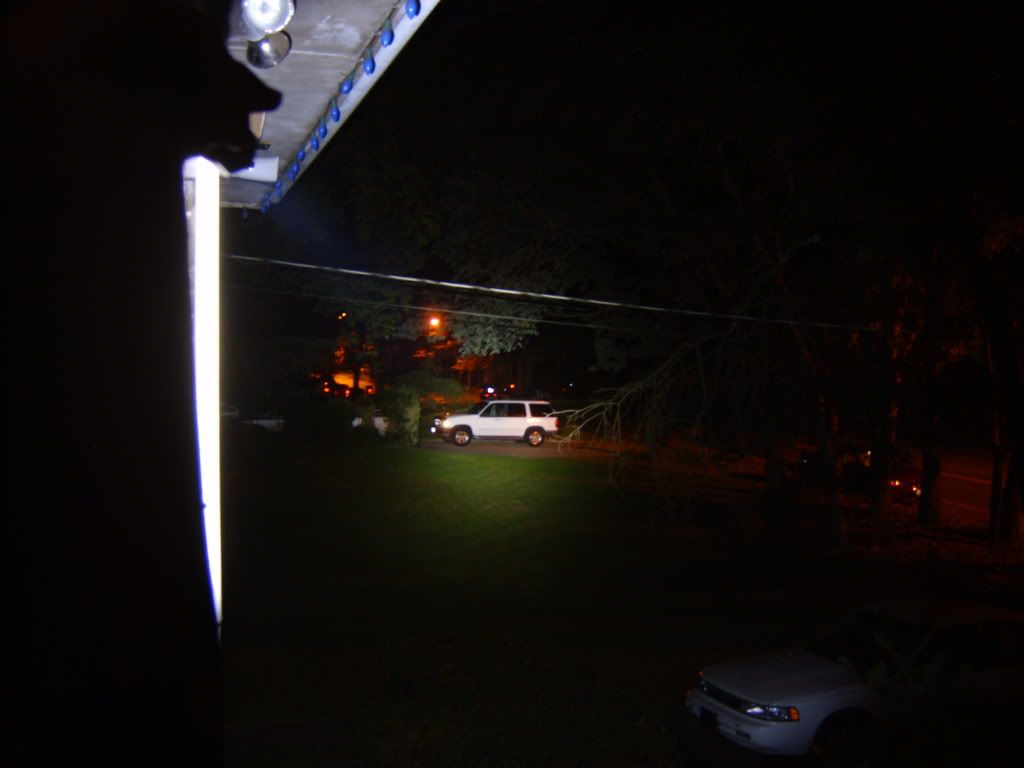 I have now the best long throw small head light in the market, your AR will have a superior range all over all other lights, my tactical light is six times more powerful than a similar incandescent 6P or G-2. C-2 etc light.
Plus:

50,000 hours lamp life
2 hours run time for the straight 350 lumens lamp
And up to 24 hours for the 5 functions lamp (in the 50 lumens mode)
RECHARGEABLE using the best Lithium Ion battery in existence

Quick Detach all steel LEVER mount
Pressure pad switch AND regular click switch included
Two models available:
Hard anodized matte black $185 for the weapon light, $145 for the flashlight
Or Glossy anodized, $175 for the weapon light or $135 for the flashlight

Charger included
Crenellated bezel or flat bezel in the glossy model
Extra batteries available (for extra run time)

e-mail me at
jcharles11784(at)yahoo(dot)com
for more information
Black Bear

UPDATE
A revision of the 5 level lamp circuit, improved the run time considerable.

Now you get 2 hours 20 minutes for the 350 lumens mode, 4 hours 20 minutes for the 175 lumens mode and 24 hours TWENTY FOUR HOURS in the 50 lumens mode.

plus strobe and SOS at 350 lumens for 2 hours 40 minutes.

e-mail me for more information

jcharles11784(at)yahoo(dot)com



Last edited by black bear 84 on Sun Jan 13, 2013 5:36 pm, edited 14 times in total.