Took my 8 y/o to the range tonight. He loves to shoot the .22's. Tonight we took the MKIII 22/45 target model with holographic sights, The SR22 pistol & the trusted 10/22 that I modified with a youth stock. This kid is a really good shot and has really learned the safety techniques. One of my proudest moments tonight was not the several bull eye shots he made, but once after I was admiring my sub-par accuracy...he said "Dad....Put the safety on!!!!!"
Here is one mag he shot with the SR22 at 5 yards: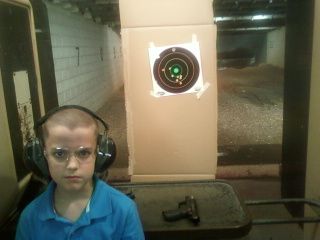 He loves the SR22 as he is left handed and it has ambidextrious safety. He can control this lil gun very well.
Here is one mag he shot with the MKIII 22/45 at 7 yards:
He likes this pistol also, but its a lil heavy for him and not set up for leftys. He's even better with the rifle with iron sights, but I forgot to get pics of those. I need to get him to a youth rimfire competitons. Anyone know of any youth shooting events in NC?