I'll play....
Mountain William...I like your style: I have it's Brother; rather, Dad currently does, as I gave it to him, unfired, For a Father's Day gift a few years back, when he gave my Brother his Colt Double Eagle:
MOUNTAIN WILLIAM wrote:
A late model Detonics Servicemaster.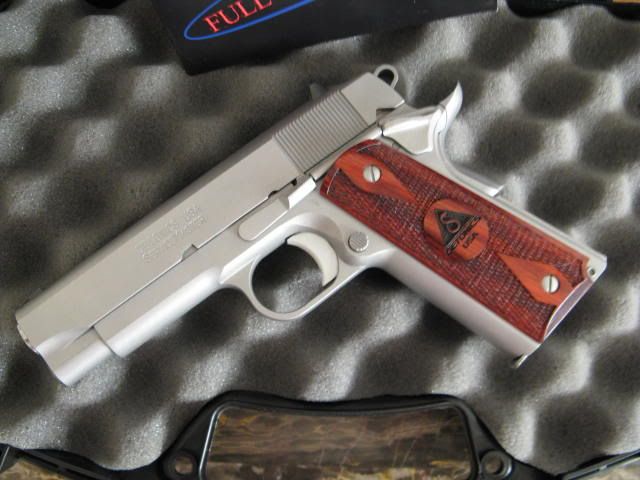 Aaaaaand...these currently reside in my safe:
A Springfield 1911-A1(pre-Brazil; "NM" serial#, & made HERE
) , as refinished by Robar, not too long ago. Came to me, in a trade...in pieces, in a box. From Alaska, obviously "rode hard & put away wet"
, in a roundabout way in 2004 or so...and sat until last year, when i finally "rebuilt" it...all new guts, minus frame, slide, barrel n trigger. My 1st build (w help). She was rough on the outside, so Robar (whom I've used before on my Sig P228) got the job of NP3'ing the internals, Electroless nickel-ing the slide, and applying Rogaurd to the frame.
I like their work!
:
And this, my 1st ever 1911, a Detonics CombatMaster MK VI. THIS is the gun that got me into handguns before I could own one, and 1911's in particular, as introduced by one Jerry Ahern & John Thomas Rourke...
Can you tell I am a fan of Detonics?
:
As a side note, these two pieces...the CombatMaster n Springfield...shoot better than a few tell me they have a right to...they always make me look good @ the range!