Hello:
I think this might be my first post, if not it's been some time. Not sure how to show a photo.
I saw a photo of a set of laminated target style grips. They have thumb and palm rests.
I saw the photo on
https://www.ssusa.org/articles/2015/9/1 ... a-bullseye
The grips I'm referencing is:
https://d2mhjaozymokej.cloudfront.net/m ... rk-2-3.jpg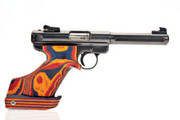 Anyone know where to get a set of these?
Thanks