I have read where if it is a "dry" day that you can make a humidity box that speeds the rusting process. I decided to try it out during one of the cycles to see if it made a difference. I got a pail of hot water and put it to one side of the hanger assembly and covered the whole thing with a tarp.
It didn't really make a difference on a 50% humidity day...and even read where this can actually set you back if there is any condensation that forms on the item you are bluing.
Picture in question: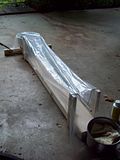 To follow up on your earlier question on why this is preferred on old double barreled shotguns...I did some research.
It is less because of the temperature differential between processes as much as the use of caustic salts. The caustic salt process is at about 300F where the rusting process is 212F. the solder does contains air bubbles that contain moisture that
can
expand and cause deformation...minor concern, but worth mentioning. The major reason from what I can tell, however, is that it is really difficult to remove all of the caustic salts from between the barrels...too many voids and you get salt creep as a result.