Since I am pretty much chained to the house with a little one in the nursery. I spent the weekend doing the Rust Bluing job on the barrel of my rusty old Springfield model 15 I picked up last week for $20. It took a lot of time...as expected, but turned out really, REALLY well. Here is the "short" version. I feel that I can, after even one job like this, produce similar results on just about any gun made now. Learning curve was not very steep. Click on the pictures and it will pull up a larger one.
----------------------------------------------------------------------------------
I pull filed all the dents and cuts out of the barrel and only sanded it to 240 grit...any more and you are wasting your time as this process actually roughens up the surface a bit.
Made a mount for the barrel to rest while the rusting process takes place...Since I plugged the barrel I used the dowl pins to rest on a wire framework
Here is the boiling mechanism. This allows the rust brown to react with water to form the rust blue. It only has to be in hot water for 5 minutes so I just poured the boiling water in there. MAKE SURE that if you do this that you use distilled water...otherwise it will not work hardly as well.
After the boiling I "carded" the excess rust off with a wet piece of rough cotton cloth. Heated the barrel with my wife's hairdryer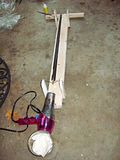 Got the solution ready. This formula has detergent...so fingerprints are not that much of a problem, but I still used gloves and washed everything down with Acetone to make sure it was without oil. I then gingerly applied as little of the solution to the barrel as possible. I then waited for 4 hours.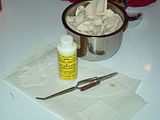 DO THE ABOVE 3 STEPS AGAIN AND AGAIN...
6 times for me on this one
...
It turned this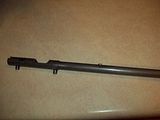 Into this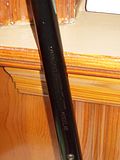 Of course there is a lot more detail going on between these pictures, but that is the gist of it...no real magic to it. This is a much better finish than using hot bluing salts. Very hard and very impervious to about anything. If you folks have time...you can do this. Very satisfied with the end result.
Pretty sure this method of bluing is unknown these days by 95% of the shooting world. It is time intensive, but that is about the only downside to it.
I can not stress how much easier it is using that Laurel Mountain Solution mentioned above...it contains degreasers. This keeps you from having to worry about oil and fingerprints messing up your project. It maybe took me one more pass to complete to satisfaction, but not having to worry about starting over if I accidently touched the barrel is worth it.