Rick, don't forget that desert sky at night!
I cut thru the upper panhandle of ID via Bonner's Ferry to Kalispell, MT. The last time I was in Kalispell was when I hitched there from TN in '75. I was getting married in 2 months and I knew that would put the brakes on my motorcycling and hitching around this beautiful country. If I had it to do over again...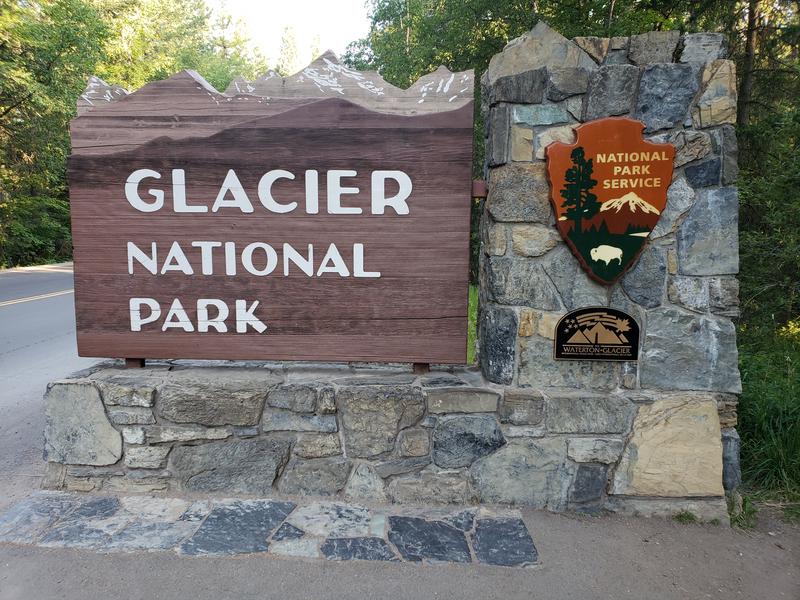 Glacier NP was the most difficult park to get just the right pic in. I got some good ones using the Panoramic feature on my phone, but they won't fit on the Forum. It's an amazing place! The road thru the park is narrow and either without a shoulder and a steep drop off or the rock walls came right to the edge of your lane. I can't imaging how many mirrors have been blasted off over the years. Fortunately for me most of the traffic was moving west to east so nobody had to navigate the other lane much and most of us rode the center line.
Now, this was funny. I saw this long orange and black bus type vehicle that looked like it was from the 20's in front. It came to a stop and all these geriatric white hat covered heads popped up thru the roof like they were on springs. They looked like baby birds squawking for a worm
It was hilarious! I came out of a restroom and 2 of these buses had pulled in. Many had gotten off so these were half empty, but you get the idea LOL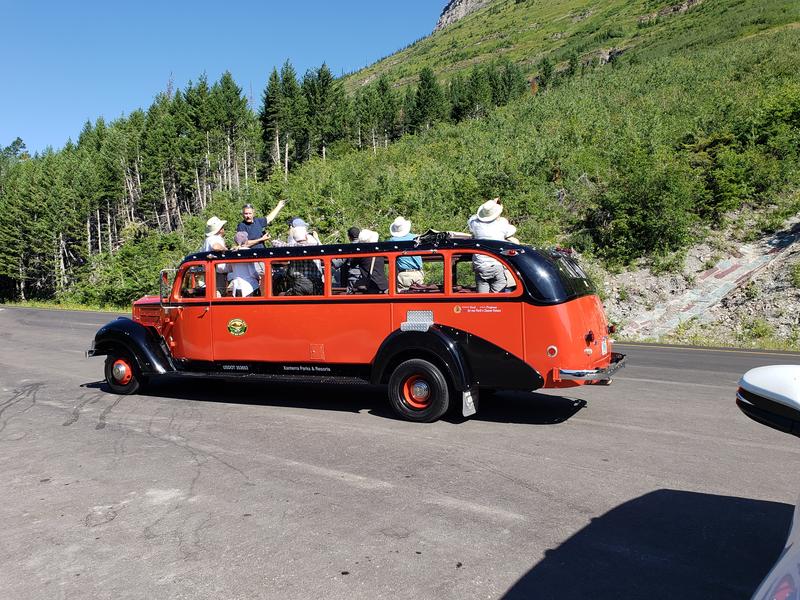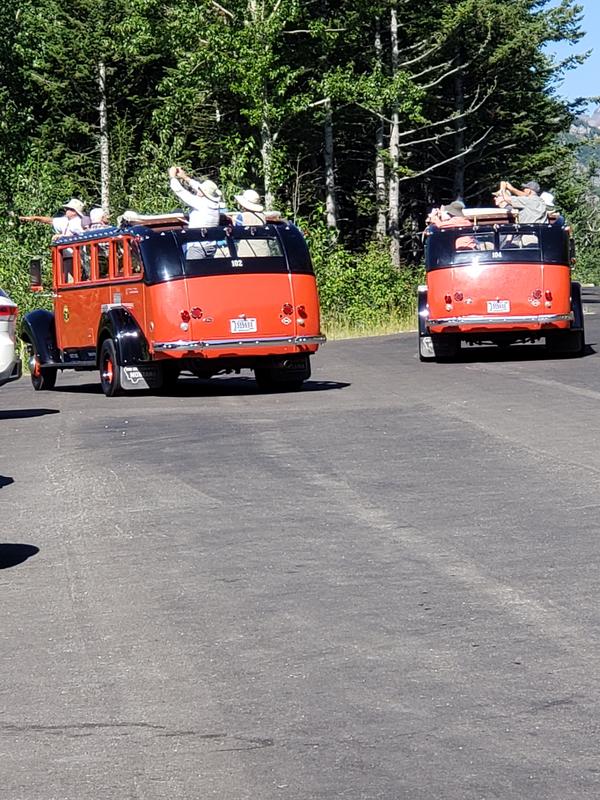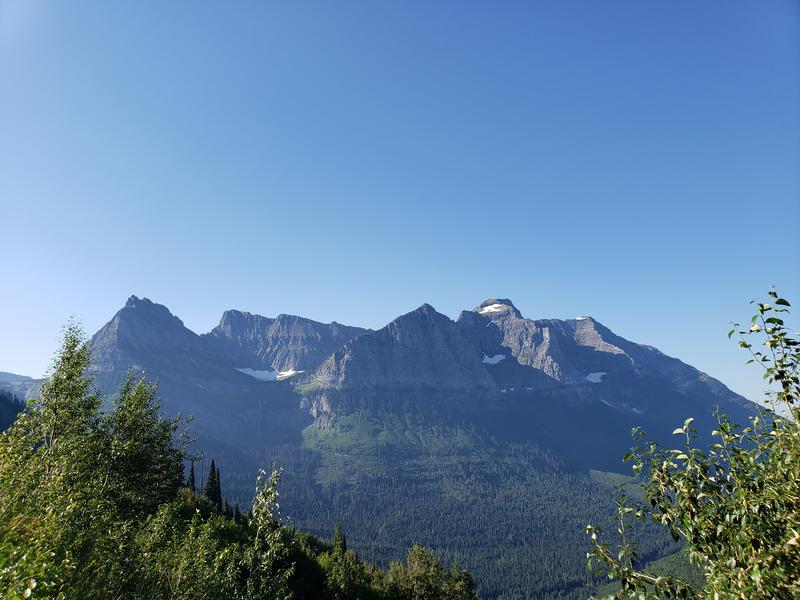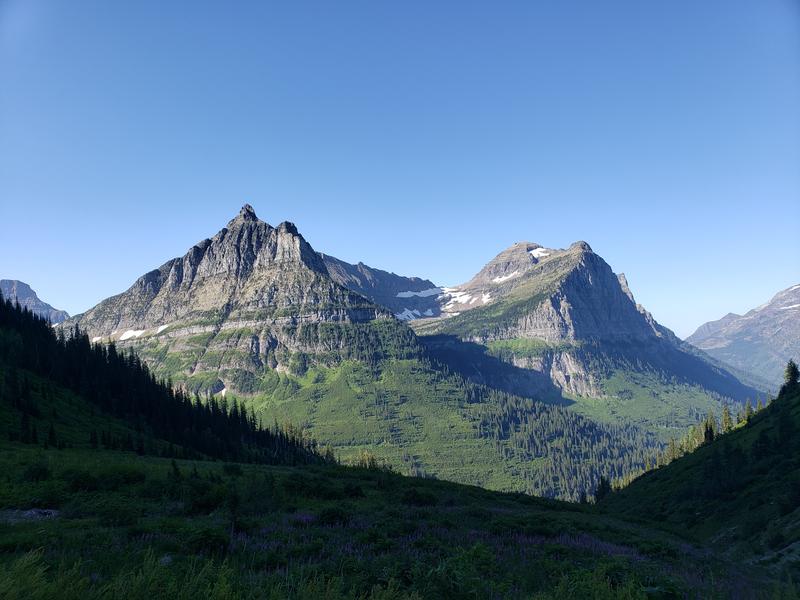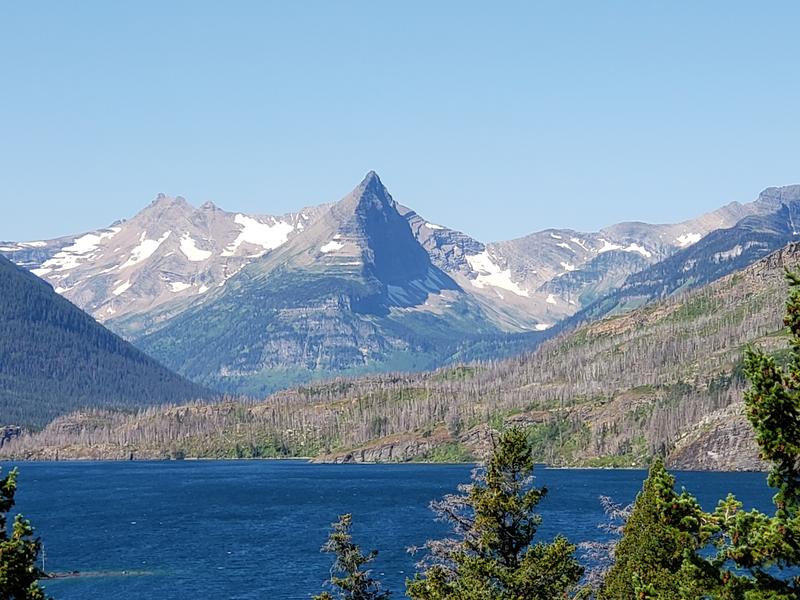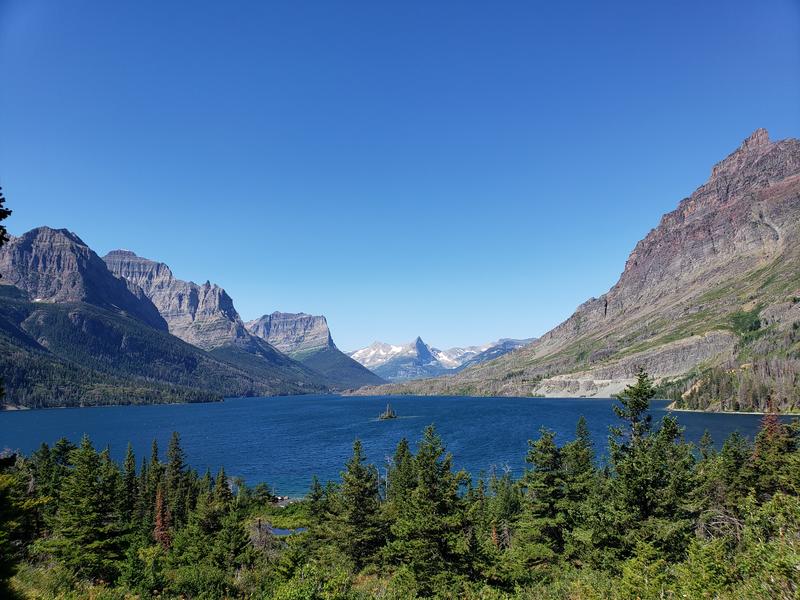 Headed south towards Yellowstone NP. There's no shortage of wind in MT
It was a white knuckle drive to Livingston. Most of the time I didn't dare pass anyone because I never knew when the wind would blow me 2-3' in an instant. For the life of me I don't see how people pull these massive campers in wind like this and the steep narrow mtn passes you have to drive thru. I'd think it would be torture.
I got to the motel at 6pm and mentioned the wind to the owner. She told me I was lucky that I didn't get there 3 hours earlier. She was about 1 mile off I-90 and people were pulling into her motel lot asking if they could wait out the wind. Yikes!
I've been to Yellowstone 2 other times, but there were still a few things I wanted to see.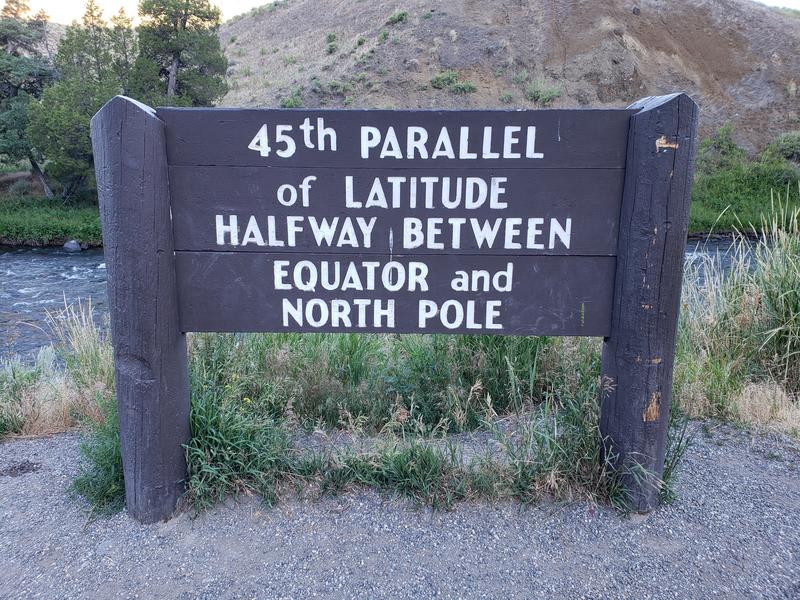 In '73 I rode my bike out this one lane one way road. Back then it said to keep an eye out for grizzles. No such sign this time, but it looks like they havn't improved it since then. I remember how beautiful the sky was that day. I lay down in a field, lit a cigar, and just stared at the sky. How peaceful it was.
Blacktail Plateau Trail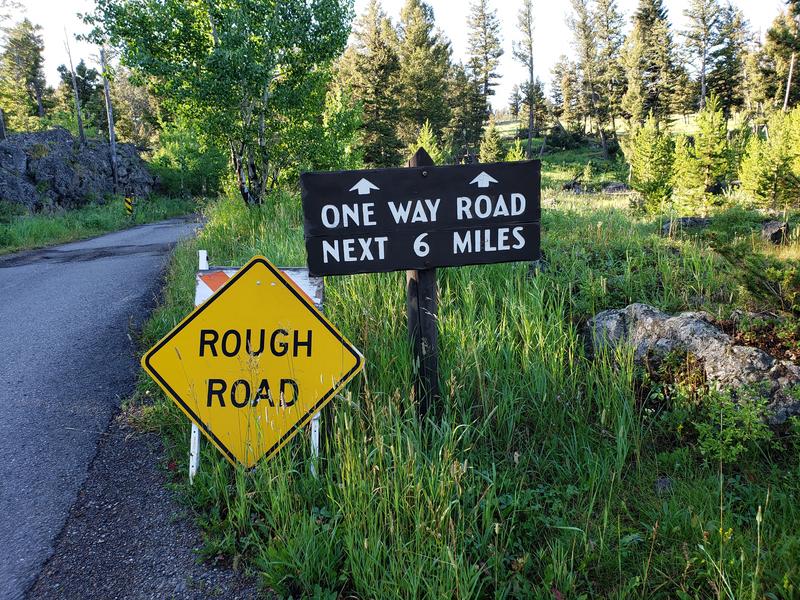 They weren't kidding the road was rough! I had to just crawl thru it, but I was enjoying it. There are 2 brands of vehicles that more pr**ks drive than any other brands--BMW and Range Rover. I'm doing about 5 mph now on this rough beautiful trail and a guy in a Range Rover is right on my *** swerving left to right and the look on his face was pure road rage X 50. I mean this guy was popping veins! You know, the best thing you can do when someone is this enraged is--STOMP MY BRAKES while I was watching this fool in my mirror. I'd give $1,000 to have had a video of it. He went from total rage to eyes that looked like 2 XL eggs in a frying pan in a nano second
He jerked the wheel to the left and had to drive the side of the embankment. I wish a Park ranger would have seen him driving off the trail like that.
I looked ahead and there he was right on the next guy's ***. Why is this fool even here?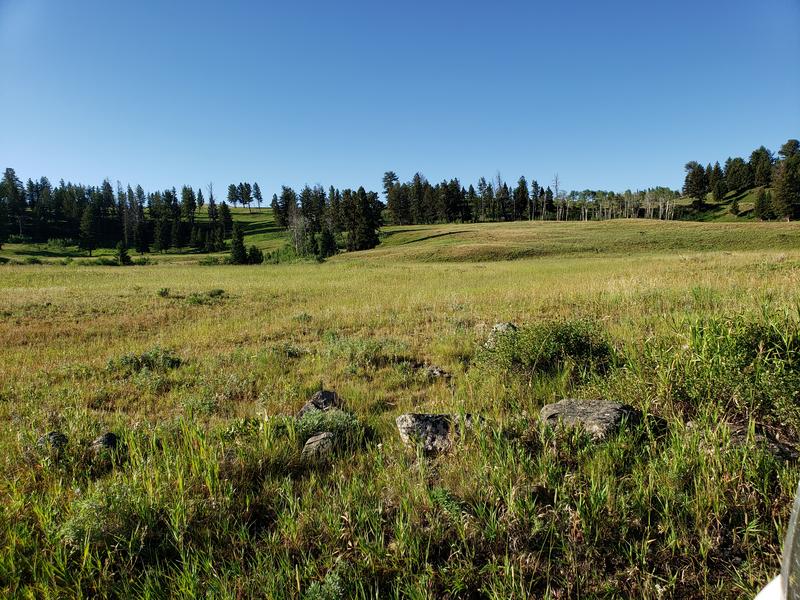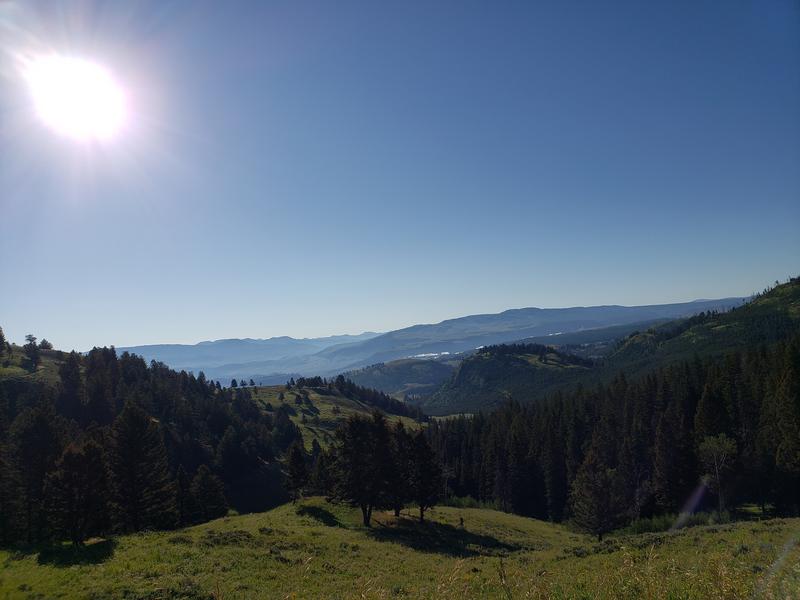 Petrified Tree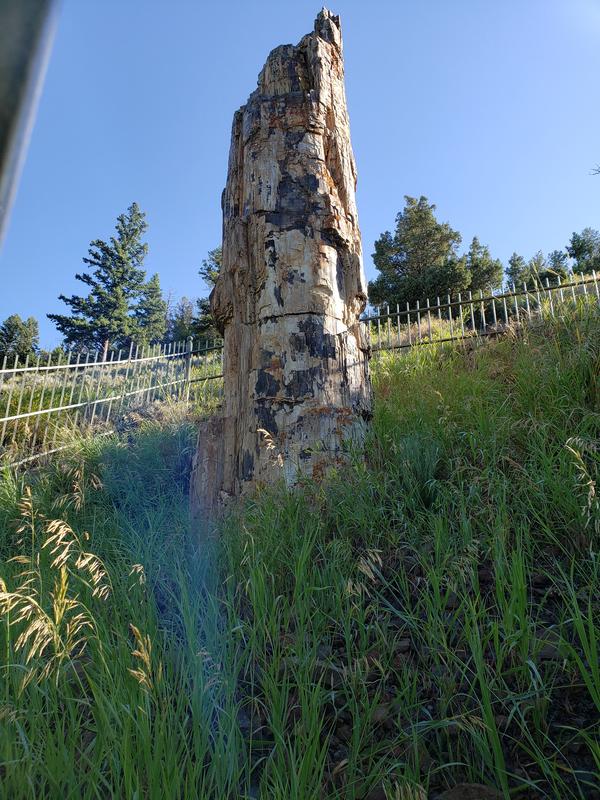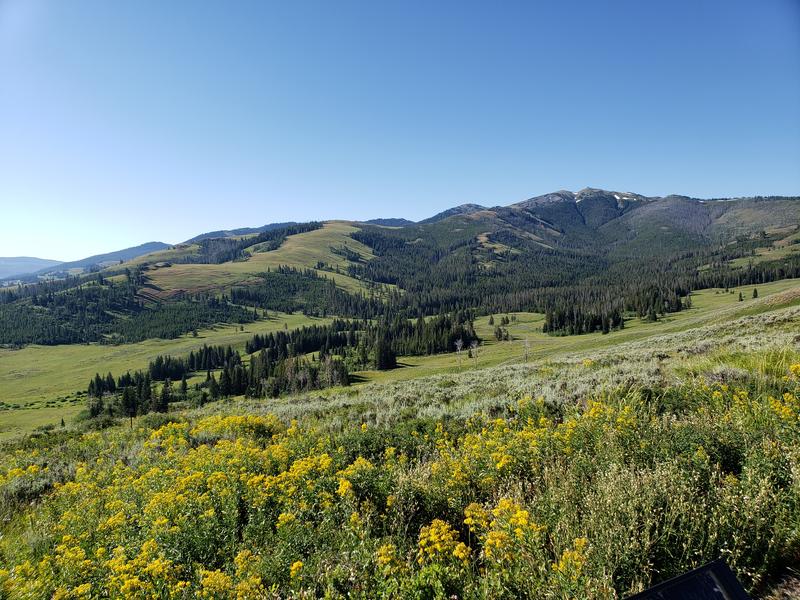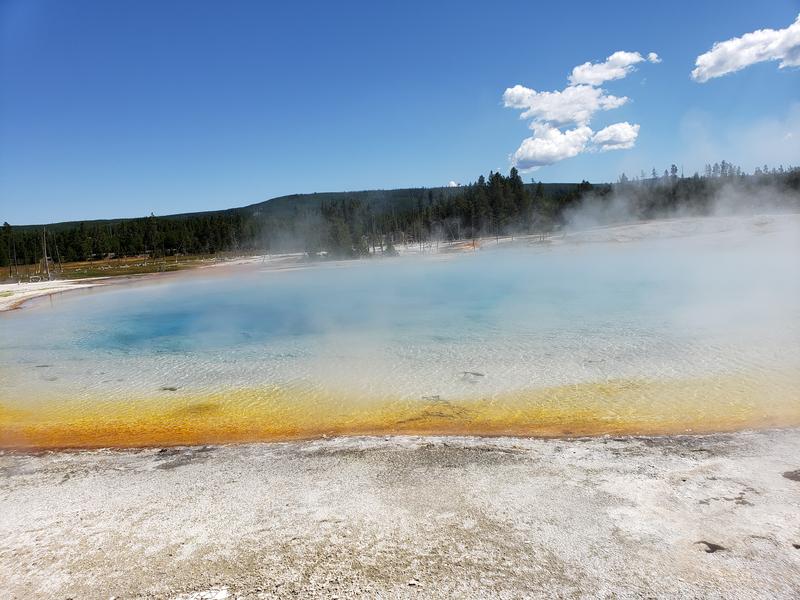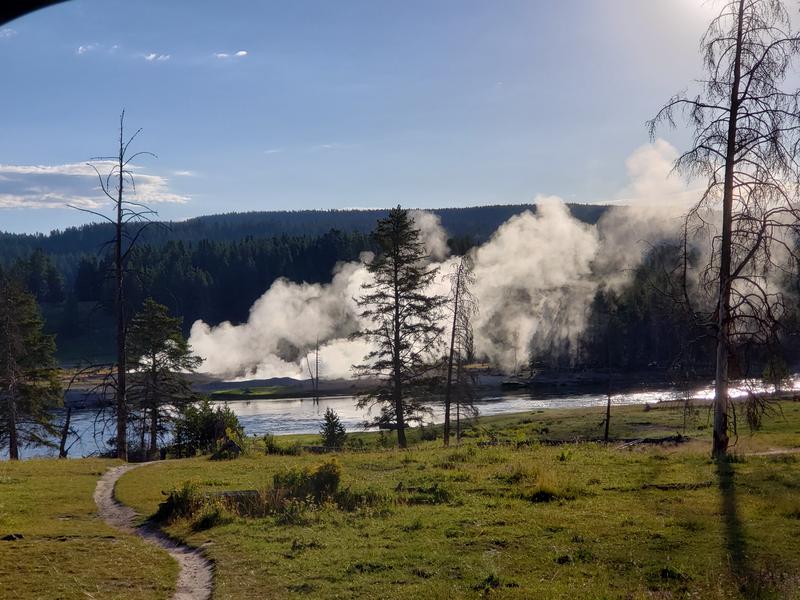 The stupid runs deep in NP's. This just days after a 9 year old girl was thrown about 8' in the air by a bison in Yellowstone. They got right in front of it after I snapped this pic thru my windshield
No pics needed of Old Faithful. There are now several hundred people waiting for Not Old Faithful anymore. So I'm waiting the now 90-120 minutes waiting for the spurt in absolutely gorgeous weather! Nice people around me in the shade and one 30ish woman asked me if I've been here before. Yes, but last year there was a hailstorm while on my bike and I missed it. Oh, you ride motorcycles. Are you going to Sturgis. It starts tomorrow! I 'bout let out a gasp like Paul Reiser did right before the alien got him in Aliens.
How could I have not checked on this?
I already have non refundable Flea Bag Motel reservations Cody, WY. Ugh... So now I'm in Cody and can't go to the Black Hills of SD because 495,000 Harley's are going to be there making more noise than this world has ever heard and there won't be a room between there and, um, Cody. Plan B. When life throws me lemons, I dodge them and drink Jack Daniels. I hate lemonade.
Well, it looks like I'm going back to CA
Except for having to backtrack, it turned out for the best as it almost always does.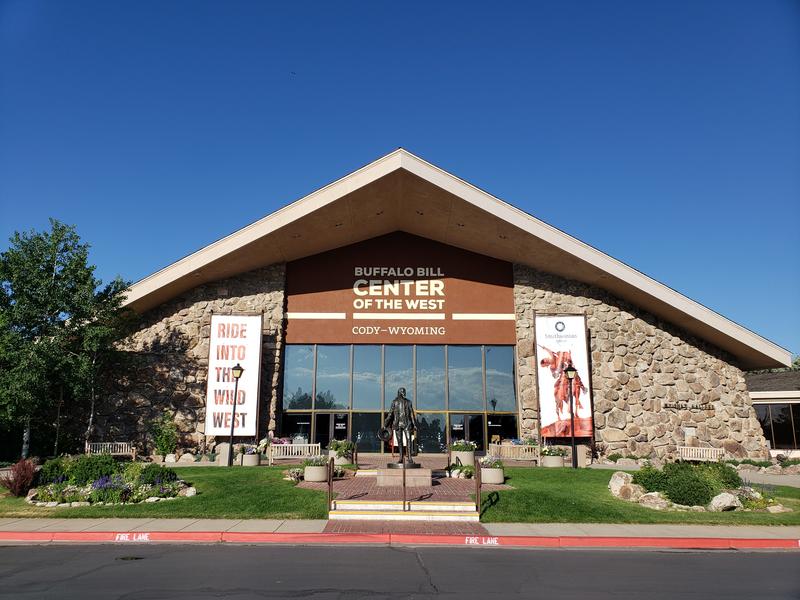 If you've never been here, it's a must see, to say the least! I have no idea how many thousands of guns are here, but it's the largest gun museum in the world! It has, I believe, 5 sections. I started in western art and then hit the gun museum. I was in there for 6 solid hours and can say that I literally saw every gun on both floors, including the sliding doors below. It's simply amazing! Lots of "actual guns" are in there from Hollywood to Theodore Roosevelt. There's no need to post any pics. I do have pics of S&W's that are totally miss-marked.
What amazed me the most, even more than the incredible wood, was how impeccable the fit was! Even Civil War guns were finely fitted, at least the ones on display. A curator told me that when they get these fine firearms they put them on display without cleaning or wiping them down. Makes sense. Make sure you open all the sliding drawers and vertical displays.
So, I backtrack to Yellowstone and see more things I didn't see yesterday, and head west. I didn't play to re-visit Yellowstone or to go thru Grand Teton NP again, but there I was! In GT NP I met the couple from Australia I posted about in my last report.
Word of advice: If you visit Grand Teton NP do it from south to north. All roads anywhere are prettier from one direction than the other. I'll close with 3 pics from this amazing NP: